Frequently Asked Questions
What is the difference between a Psychiatrist and a Psychologist and a Counsellor?
Who needs their head read?
What is the difference between counselling and therapy?
Will therapy change me?
How do I know if I'm with a therapist who is good for me?
What if I feel my therapy isn't going anywhere?



What is the difference between a Psychiatrist and a Psychologist and a Counsellor?
Psychiatrists are medical doctors who have completed a medical degree and have gone on further to specialise in disorders of the mind. Some Psychiatrists do counselling relating to psychological problem-solving but their main area of interest is in the more medical orientation of mental disorders. They are able to prescribe drugs and hospitalise patients.

Psychologists have a four to six year university degree. They spend two years in supervision as an intern before they are fully qualified and must be registered by the governing board of the state in which they practice. If they meet these qualifications they are entitled to full membership in the Australian Psychological Society. Laboratory Psychologists mainly work in the area of testing behaviors often with animals such as rats. Clinical Psychologists work with people on a variety of problems, anything from depression to lack of confidence, eating disorders to marriage counseling, corporate effectiveness to adolescent rebelling, etc.
Counselllors gain a Diploma of Counselling from accredited organisations and are skilled in a wide range of counselling techniques.



Who needs their head read?

There used to be a misconception that people who need a therapist must be 'crazy'. That would be analogous to thinking that anyone who needed an accountant must be 'stupid'. If the problem were a leaky tap, you'd turn to a plumber. If the problem is a lack of ability to communicate with your partner, therapists have training that can teach you where the problem is, and how to gain mastery over it, thus providing a healthier, happier relationship. They simply know more about matters psychological than most people who are untrained and relying on what they learned from their parents, teachers or religious instructors. As you'd use a trainer for your physical expertise, you'd use a therapist for your mental expertise.



What is the difference between counselling and therapy?

Nothing, just different terms for the same thing. Once you book in to see a Psychologist or counsellor, you tell them what you see as the problem and what you'd like as a result of working with the therapist. The therapist takes a personal history in order to help gain insight into how the problem originated. Then the therapist works on ways of looking at the origin of the problem with a different perspective. This enables the client to draw different conclusions and therefore make wider choices about how they respond and behave.



Will therapy change me?

Therapy isn't about getting the client to be different from the way they are. It's about teaching the client to be more authentic about who they were in the first place. When working with other therapists I remind them of the saying, "The genius of Michelangelo was that he knew which bits of marble weren't David." Michelangelo took a block of marble and chiseled away until he exposed the real David. Therapy is the process of getting rid of those parts of a person's personality that they added on because they thought they had to in order to get by, or gain approval or defend themselves. Therapy is about expansion, and freedom. It's about being more of who you already are.



How do I know if I'm with a therapist who is good for me?

You should feel heard, that the therapist understands what you are saying. You should feel that they are clear about the result you are trying to achieve. You should feel you are moving in that direction, that you are not stagnating. Be mindful that you are in a relationship of equals. You are the consumer, the therapist is the hired specialist. Ultimately you know more about yourself than they do. If your trainer asked you to do a stretch and you sense that if you did, you'd hurt yourself, you wouldn't do it. Trust your instincts. And most importantly you should never feel judged. You should never experience any messages of sexual inappropriateness. If you do, don't analyse your feelings, just get out.



What if I feel my therapy isn't going anywhere?

Every human being who isn't Jesus, Ghandi or Mohamed has a limit to their wisdom. Enlightenment is sometimes like a staircase. You should never compromise your vision of where you want to go. If your therapist has reached their ceiling they should tell you they've done all they can and not waste your time. Then you should find someone who may be able to assist you to climb higher. Tell them where you are and ask if they feel they can aid you in going further. There are horses for courses. It's your journey. Always honor, respect and listen to yourself.
The golden rule of relationships:
PLAY NICELY!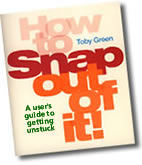 Ever had trouble with
Relationships,
Commitment,
Understanding
your partner,
Forgiving your parents,
Living the life you
have always dreamt of?
Then you will enjoy Toby Green's NEW book a collection of profound insights to life that Toby has drawn on from her own experiences.
find out more...
One of Toby's recent articles from
Body & Soul

Truth & consequences, Sunday, July 20, 2008.

Stan had an affair. Alice had always said if she ever found out her husband was cheating there'd be nothing to talk about, he'd be out. But that isn't what happened. First of all Stan wasn't through with the affair and wasn't sure he wanted his marriage. 'Out' meant he was free to move in with the other woman. So it was Stan who made the decision and left.