About Toby Green and Associates
The 'Toby Green' brand of therapy is known for its direct, no-nonsense, humour filled, common sense technique.
In founding this Business, Toby's desire was to be able to provide a service to those that are unable to access her personally, and as such has built a team of Associates with whom we can connect our callers.

Toby offers supervision and guidance to her team, all of whom are fully qualified relationship therapists. They are all graduates of professionally recognised educational institutions.

We hope you will take the time to have a look around the site and see if any of our services could be advantageous to you.
About Toby Green
Toby Green has been practicing as a relationship psychologist for over 30 years, since moving to Australia from Boston.
When Toby was approached to join the team of experts for the 'Sex' show on Channels 9 and 10, her media career expanded to include a weekly relationship column in newspapers syndicated across Australia. Toby has released three books, has had a regular segment on Good Morning Australia and has made numerous guest appearances on programs such as Sunrise, 60 Minutes and Today Tonight.
Toby's weekly column in News Limited's Body and Soul Sunday liftout reaches over 5 million readers throughout Australia. She is also featured in the radio version of Body and Soul, and appears regularly as a guest on the morning show on MIXFM Melbourne, taking live listener queries.
The popularity of Toby's column gave her the opportunity to actualise a long held dream — to bring relationship skills and advice to a far reaching audience who perhaps don't have readily available access to qualified counsellors, therapists and psychologists. Not only can we provide face to face counselling but we are now able to offer counselling servcies to clients by email or telephone. This is a huge benefit to those in remote areas and those who may have time and travel restrictions.
Through the power of the internet Toby has been able to offer these services direct to clients by email or telephone, a convenience for many, especially in remote areas and for those who have time & travel restrictions.
The golden rule of relationships:
PLAY NICELY!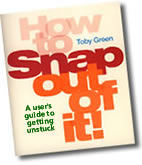 Ever had trouble with
Relationships,
Commitment,
Understanding
your partner,
Forgiving your parents,
Living the life you
have always dreamt of?
Then you will enjoy Toby Green's NEW book a collection of profound insights to life that Toby has drawn on from her own experiences.
find out more...
One of Toby's recent articles from
Body & Soul

Truth & consequences, Sunday, July 20, 2008.

Stan had an affair. Alice had always said if she ever found out her husband was cheating there'd be nothing to talk about, he'd be out. But that isn't what happened. First of all Stan wasn't through with the affair and wasn't sure he wanted his marriage. 'Out' meant he was free to move in with the other woman. So it was Stan who made the decision and left.